The Visual Valet is a reminder that God has been and always will be involved with His universe and in individual lives. It also provides a framework for organizing what God says about Himself and His creation, allowing fragments of Biblical knowledge to relate to each other and interact with other concepts. This common framework allows people to share their insights and collaborate effectively. It is also a guide for making the connections that are central to Biblical integration. Because it is suggestive rather than prescriptive, it is possible for people of different interests and abilities to profitably use the same model. Most importantly, the Visual Valet is simple enough that it can be taught to students so they can learn to relate all of life and learning to God and His Word—the mark of a Christian thinker.
As a diagram, the Visual Valet is less "forgettable", as everything is not specified. Being simple and concise encourages its involvement in ordinary thinking rather than only special prepared occasions.
Individuals will develop their own specific techniques as they begin to think Biblically. However, an assistant can help to get started. Once a foundation is in place, it will be possible to evaluate resources that will enhance and further develop distinctively Christian patterns of thought.
Christian young people are taught how to have devotions, study the Bible, and lead worship. All too often, however, they are left to figure out for themselves how these "religious" activities relate to what they study in school. Many, consciously or unconsciously, assume that there is no connection. Learning how to relate everything in life and learning to God and His Word does not happen automatically. Modelling is critical, but many teachers feel that they do not know how to apply Biblical integration in their classes even though they feel that they should. Without help, it is all too easy to perpetuate the kind of teaching learned from many of our teachers who left God out of the classroom. Fortunately, every believer has the Holy Spirit as an indwelling teacher, and He has promised to finish the task of making us like Jesus in our thinking and every other way (Philippians 1:6, 2 Corinthians 3:18).
Right foundation—Christian framework
The natural inclination, when trying to integrate the Bible with other subjects taught in school, is to add the Bible to the subject. However, Biblical integration lies in the opposite direction. The subjects being taught need to find their place in the "big picture" of what God has done and is doing in His creation. Without a clear framework to understand the "big picture", it is difficult to relate any thing to it and impossible to clearly communicate the relationships to anyone else.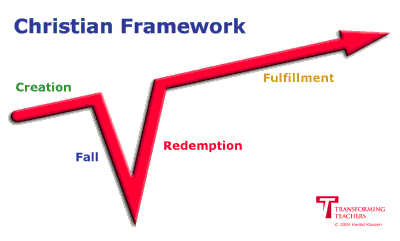 A collection of "spiritual gems" in our minds may be so haphazardly arranged that they are rarely applied personally, shared with someone else, or perceived as valuable. Without organization, it is difficult to "be ready to answer" anyone who asks questions (1 Peter 3:15).
Christian thinking rests on four great cornerstones summarized by the Visual Valet: Creation, The Fall, Redemption, and Fulfillment. The Christian framework or Biblical worldview illustrated by this diagram can include all God has revealed about what He has done, is doing, and will do in the universe, as well as His work in each individual's life. The diagram of God's activity is a modification of diagrams in DeVern Fromke's The Ultimate Intention (1964, p. 73). Because all we know of God can be related to this simple framework, we can keep expanding our knowledge and understanding for the rest of our lives—through all eternity.
For a few ideas to illustrate the infinite possibilities when considering an infinite God, see a Christian framework.
The Visual Valet can assist anyone in organizing and communicating the essential elements of the Christian faith. Even the youngest student can learn that God made everything, that sin wrecks everything, that Jesus fixes everything, and that God uses everything. Biblical scholars can also use the Visual Valet to develop their understanding, and ours, of each aspect of the framework. Every sermon, every Bible class, and all the personal time spent in reading, studying, memorizing and meditating on God's Word should develop our understanding of what God is doing. But research and observation of Christians—starting with ourselves—confirm that our understanding and practice of God's truth is very limited compared to the knowledge we have accumulated. At least part of the problem is a perceived detachment of Biblical truth from almost everything that is not Biblical.
Right connections—Biblical integration guide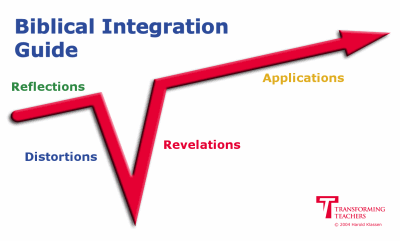 To move toward Christ-centered living and learning, Christians must begin to recognize the connections between what the Bible has to say and everything else that we are, know, and do. Because most Christians have little experience bringing together the Biblical and non-Biblical, it is very helpful to have something like the Visual Valet to not only remind us of Biblical truth, but also to suggest where we should look for connections. The connections between non-Biblical material and the Bible are suggested by four different words that are related to the Visual Valet: reflections, distortions, revelations, and applications.
Biblical integration is not about finding the "right verse" or "the only" Christian way to deal with every class and every subject. It is about fitting everything we know and teach into the very BIG picture of what God is doing. It is about expressing God-given uniqueness and creativity while being the teachers He has called each one of us to be (Matthew 28:19-20).
For more detail, see the Biblical integration guide.
Because everything was created to bring glory to God, the study of anything in creation should provide glimpses of God. Wherever they look, believers should expect to find reflections of Him. These will add to their appreciation of God whose Word they study. However, because of the fall, both the creation they study and their own understanding of it have been distorted by sin. The Bible identifies these distortions, and the indwelling Holy Spirit uses the Word to convince people of their sin, God's righteousness and His coming judgment (John 16:8). The Bible also reveals how believers can avoid a self-centered and unbalanced misuse of creation as the Holy Spirit guides and teaches them (John 16:13-15, John 14:26). He also provides them with the power to practise the truth. Although even the unregenerate man can see reflections of God's glory and overwhelming evidence of the unnatural presence of death and evil in the universe, the Bible is the only record of God's provision of redemption. The solutions to the world's problems do not lie in education or in government, but in spiritual rebirth. However, it is not just a relationship to a powerful Creator that God wants to restore. God the Father desires to have a dynamic, intimate relationship with each of His children. Jesus Christ desires to act in this world through His body and the Holy Spirit indwells each believer to make them individually and collectively a temple of worship.
Right questions—Big question guide
If teachers are being transformed by their understanding of God and His purposes, they will have a transforming impact on their students. As they look at what they teach from the radically different perspective revealed in the Bible, their excitement about the meaning and purpose of "common" things will be contagious. Their thankful spirit will stand in stark contrast to the selfishness that is so rampant. Their humility and love will bring life and hope into situations of darkness and despair—even if they are not allowed to quote the Bible or use Christian vocabulary. In fact, even in Christian environments, too many Bible verses may produce a negative rather than a positive response.
Everyone made in God's image has been given the opportunity and responsibility to personally decide the foundation upon which they will build their life. Change is never easy and usually takes longer than anyone would like. Patience and creativity are required of teachers who want to make a difference in the lives of their students.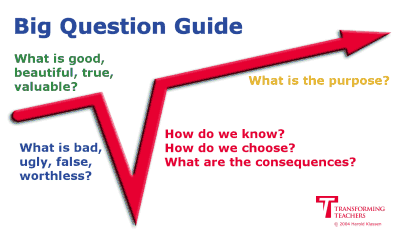 The Visual Valet can assist a teacher to equip students to make informed personal decisions about the key questions of life, as well as introduce truth where it may not yet be wanted.
Jesus' practice, particularly in a hostile environment, was to ask penetrating questions. Teachers may not be able to explicitly share all or any of their own Christian thinking—their Christian framework or the connections they've discovered between what they're teaching and what God is doing—but they can ask critical questions. Post-modern thinking may reject the reality of absolute truth, but it is often able to do so because of sloppy thinking rather than careful analysis. By forcing students to consider inconsistencies and the consequences of the thinking of the media, authors, historical figures, and themselves, the Holy Spirit will have something He can use in their life and they will be without excuse (Romans 1:20). Change may not come immediately, but part of the foundation for Christian thinking will have been established. Even if it is rejected, the student may, like Paul, find it hard…to kick against the goads (Acts 26:14).
Everyone has some idea of what is good, beautiful, true and valuable as well as what is bad, ugly, false and worthless. These are closely related to what a person thinks about the purpose of life and the universe. But we must also consider how we make the right choices – and why we so often make wrong choices – as well as the consequences of the choices. By focusing on teaching materials and learning to analyze what they reveal about these "Big Questions", students will have many opportunities to consider their own thinking. Teachers will not consciously or unconsciously "brainwash" students by unwisely using their position of authority or their relationship with the students. Students will be encouraged to take responsibility for their choices and will have a basic tool to evaluate the bewildering variety of new input, which they will continually encounter. Sooner or later, the students will ask their teachers about their personal answers and such honest questions can receive open answers in the classroom or in private conversation.
So how can the Visual Valet assist you?
The Visual Valet can remind you implement Biblical integration. Good intentions are not enough when it comes to practising Christian thinking; it must be done to make a difference. The most thorough model that is unused is less valuable than one that is simple, but actually put into practise.
God's intention is not that people should simply know more about Him and become proud, or that they understand more of Him and become more accountable. Rather, He intends that knowledge and understanding lead to wisdom, where truth transforms a life from the inside out. God wants us all to think like Christians so that our teaching will be distinctively Christian in nature and not just in name. Any other response to His truth would be foolishness, not wisdom. Wisely choosing His way will produce disciples who will be able to teach others also.
The Visual Valet can help you organize all God says about Himself and His creation. Elements of Biblical knowledge should be related to each other and connected to other concepts. However, the framework is expandable, so it does not need to be abandoned as you study further.
A common framework will allow different individuals to share their insights and collaborate effectively. Education based on Christian presuppositions runs contrary to society's patterns of thinking and even the experience of most Christians. Making the change from non-Christian education to distinctly Christian education will require teachers to work together to make a difference in their schools and classrooms. Either in accountability groups or as an entire faculty, you can help others by sharing this simple and concise visual outline.
The Visual Valet can guide you in making the connections that are central to Biblically integrated Christian thinking. Because it is suggestive rather than prescriptive, it is possible for people of different interests and abilities to profitably use the same model. It can be adapted and developed in as many ways as God gives insight, but there is a constant check with the BIG picture of God's activity. Details can always be analyzed separately, but the four major themes of a Biblical worldview will keep the imagination sanctified and obedient to Christ (2 Corinthians 10:5).
The Visual Valet can help you develop critically important thinking skills in your students. You can encourage them to consider challenging perspectives that are different from the suffocating, godless mould of the world's thinking (Romans 12:2).
Most importantly, the Visual Valet can be taught to students so that they can learn to think like Christians. Biblical integration is not merely an exercise for academics pursuing advanced studies, but it is an essential part of every thinking Christian's life. If each generation is to be transformed by the renewing of their mind (Romans 12:2). If each generation is to be transformed by the renewing of their mind, it is vitally important that they be taught from the earliest age to connect God's special revelation of Himself in Christ as recorded in the Bible with everything else in His creation.
The Visual Valet can help you become a distinctively Christian thinker and teacher. It is simple enough to be understood by young children and open-ended enough to be used by sophisticated scholars. May it be like a Swiss-army knife, a practical tool enabling you to make progress in the great project of becoming a Christian thinker and teaching your students to be Christian thinkers as well. May God transform us as teachers to He can use us in the process of transforming our students, and may they be used to transform their world for Him—transformed teachers transforming the transformers.
Copyright ©2005 Harold Klassen. All rights reserved.
The Visual Valet is available as an eBook and a PDF of the complete book is also available for download.
Downloads:
VV - Condensed booklet 2006.12

Introduction to the Visual Valet teaching model by Harold Klassen

©2006 Single copy - personal use ;Harold Klassen Thursday, 03 May 2007 22:57 746.16Kb 2,719
Download