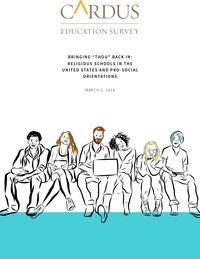 From the Cardus Education Newsletter, March 3, 2018
New research examines the impact of Evangelical Protestant education on emphasizing generous attitudes and behaviours within their graduates.
Did you know that evangelical protestant graduates demonstrate a greater willingness to be generous and a sense of social solidarity?
Read the latest Cardus Religious Schools Initiative research report, authored by University of Notre Dame sociologist Dr. David Sikkink, which explores the journey of Catholic and Protestant Evangelical high school graduates as young adults. This is the third paper released in this series.
This report examines the correlation between religious school attendance, pro-social attitudes, and civic involvement. Are religious school graduates more like to vote, attend a community meeting, or engage in some other action that contributes to the common good? Author David Sikkink at the University of Notre Dame examines these issues through an analysis of a major American longitudinal data set.
Download the full report here to learn more about these unique findings.