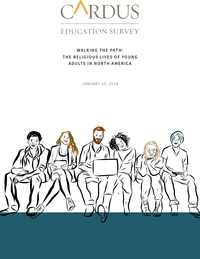 New research finds that attending a Protestant Evangelical high school has a very positive influence on graduates' level of religious and spiritual lives as young adults.
The latest Cardus Religious Schools Initiative research report, authored by University of Notre Dame sociologist Dr. David Sikkink, explores the journey of Protestant Evangelical high school graduates as young adults.
The report reveals the strong, measurable, and positive influence on gradates' level of regular church attendance, personal prayer, and Bible reading.
And it helps bust the myth that attending a Christian high school will turn people off from their religious faith when they enter adulthood. Instead, that faith identity grows stronger and graduates display strong involvement in church leadership, volunteering, and giving.
Download the full report to learn more. Check out the Cardus press release or follow along as Dr. Beth Green, Cardus Education program director, explains it all to Convivium's Peter Stockland!